Ancestral Origins™ DNA Testing
Price: SGD 690
Testing: Applicant only
Timeframe: 3 weeks from receipt of samples at our office
With this simple DNA Ancestry test, your DNA profile is compared against hundreds of global populations and fourteen anthropological regions whose collective genetic information is known and scientifically validated. We then measure the likelihood that your genetic information is linked with each of those populations and regions, and plot the results on a very high resolution map which illustrates your unique geogenetic heritage from both a per-population view, and an overall regional view. DNA genealogy has never been so easy to understand!
About the Ancestral Origins™ DNA Ancestry Map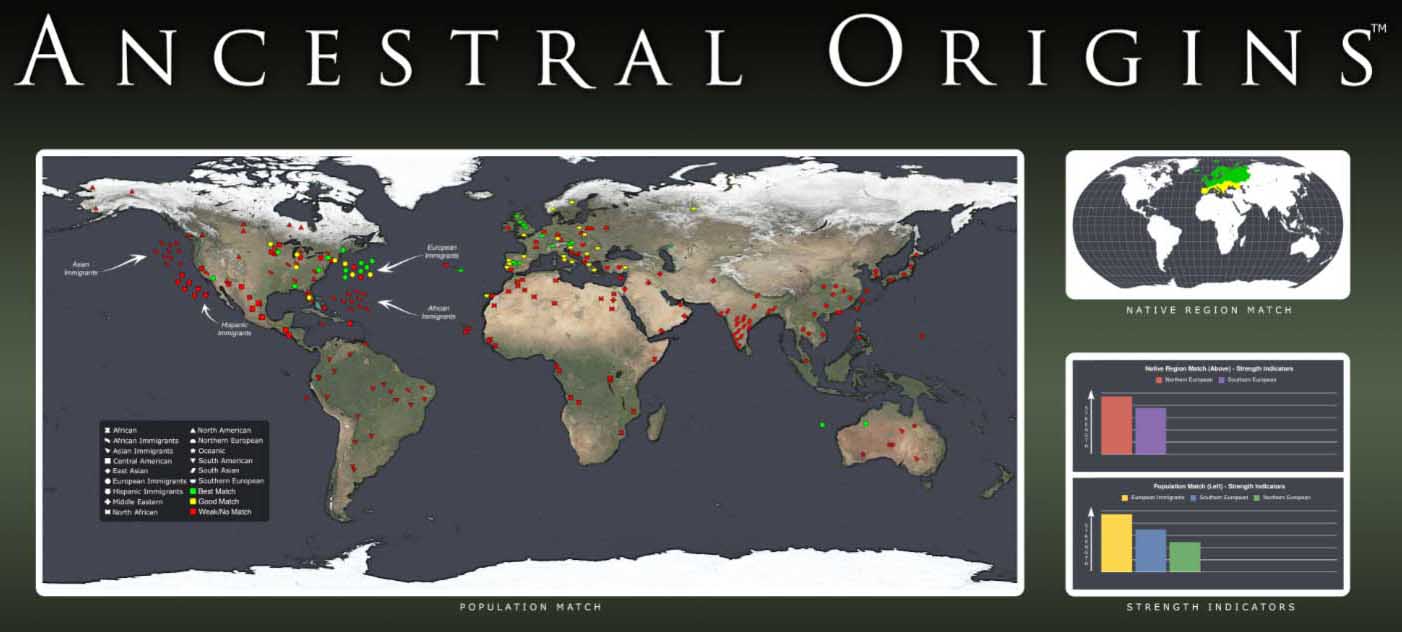 DNA genealogy using the Ancestral Origins™ DNA Test benefits greatly from the experience of one of the world's top human identity DNA testing laboratories. We've compiled data from scientific publications such as Forensic Science International and The Journal of Forensic Sciences; from organizations such as the Yale School of Medicine; and from our own population databases into what is now called "FoGG DB™": the Focused GeoGenetic Database. We've also developed an analysis suite called FoggPopper™ which uses a human DNA profile to pull relevant data out of FoGG DB™ and then perform various calculations and follow certain algorithms to arrive at a result which reveals a person's strongest DNA ancestry. The data from this DNA ancestry test is then compiled into the Ancestral Origins™ DNA Ancestry map, personalized for each customer. Each Ancestral Origins™ DNA Ancestry map is broken into three major sections: Population Matches, Native Region Matches, and Strength Indicators.
Population Matches: We measure your DNA individually against every population in our database, and mark how strongly your profile matched against each. On the population match map, each population has a shape which tells you which anthropological region that population belongs to, as well as a color to indicate how strong of a match you had with it.
Green is the best match, yellow is a good match, and red means that no match or a weak match was made. In this set of calculations, we also indicate three special anthropological regions, which are actually groups of dispersed populations. A dispersed population is one that has migrated from a native land to somewhere else on the globe. Currently we have data for African Americans, European Americans, and Hispanic Americans.
Native Region Matches: Running a completely new set of calculations, and not using any of our "dispersed population" regions, we determine which anthropological native regions you have the strongest links with. The strongest match is indicated in green, any subsequent matches are indicated in yellow. While the population match map contains data concerning recent migrations to North America, the Native Region map does not, and can be considered more of a "Deep Roots" match.
Strength Indicators: The first strength indicator graph looks at the cumulative strength of all the populations in your matched regions, and shows you how strong each region is in comparison with each other. This way, you not only know how strong individual populations are with the population match map, but can look at the larger picture, and know how each represented region measures up with any other regions you may have matched. A second strength indicator looks at your native region matches (in the smaller map) and simply shows you how each native region compares in strength with any other native regions you may have matched.
Personalised Ancestral Origins DNA Analysis ReportM
Included with your results is a personalised Ancestral Origins DNA Analysis Report together with an account of historical migration, which will explain how different populations have moved around the world. This coupled with your personal results will give you a more comprehensive insight into your ancestral roots.
Your personal report will include your DNA Profile together with your Regional Affiliations ranked in order of strength together with the number of Population Matches and names of the Population Database with the closest matches to your unique DNA profile. Click here to view an extract from a Personalised Ancestral Origins DNA Analysis Report.
Professional Consultation
We offer a professional telephone interpretation once you receive your Ancestral Origins DNA Ancestry map and report. Consultation sessions are up to 15 minutes in length and are provided by telephone only. This service can be purchased before or after you receive your map. Consultation sessions may not be recorded or reproduced without the expressed written consent of International Biosciences.